---
"I CAN GUARANTEE YOU WILL LEAVE FEELING FITTER, MORE MOTIVATED, AND INFORMED"
---
ABOUT ME
Hi, and welcome to the Elite Spartans community!
I am Alex Zuniga, owner and CEO of Elite Spartans. I founded Elite Spartans in 2012 with one grand vision in mind: to help as many people in my community as possible get healthier, become stronger, and discover what they are possible of with guidance, motivation, and fitness education. Starting Elite Spartans was the best way of combining my 10+ years of experience in the health industry with my vision, along with my determination to provide a world-class experience for all of my clients.
The vision to empower people through their health was inspired through a series of events I've experienced. I have had a life-long commitment to a lifestyle of fitness beginning when I was six years old, playing soccer in Mexico City. From this time on, fitness became an integral part of my development as an individual and proponent of the fitness industry. At 13, I began an unforgettable life-altering experience as a cadet in one of the best military schools in Mexico City,
spending the next three years training for military combat, self-defense, semi-professional boxing, and most importantly learning the value of self-discipline.
Beyond learning the value of self-discipline, I learned the importance of working with others as a team. As it is said, the sum is greater than its parts; each individual has something to offer and through complementarity we create a stronger and more well-balanced whole. This notion was ingrained in me during my time in military school and remains ever present in my business and how my team at Elite Spartans functions as a team, a strong, effective unit.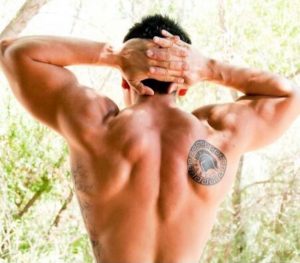 Following military school, I attended law school in Mexico City before moving to the United States for further
educational opportunities. Unfortunately, despite my time in law school in Mexico City, I was unable to transfer most of my 47 units and had to essentially start over in the US. As an international student, I attended SJSU but due to expensive international tuition rates I transferred to San Jose City College, earning an Associate of Arts (AA) with a minor in Journalism & Communications, after which I returned to SJSU.
During this time I was in a car accident that changed the entire direction of my life. A drunk driver struck the car I was in, and as a result of the accident I was in a wheel chair for a period of time before I was able to recover without surgery. Despite doctors' orders for back surgery, I was determined to heal another way. Through hours and hours of physical therapy, I regained most of my mobility. It was during this process that I fell in love with the healing aspect of fitness. You can read more about my accident and recovery on the "Alex's story" tab on the website.
After recovering from my injuries, I had healed well enough to return to athletics and I competed in track and field for SJCC. Following graduation from SJCC, I continued on to San Jose State University and majored in International Business. During this time, I competed for SJSU in track and field in the 100m and 400m events, and was able to balance full-time school with a full-time job in one of the most recognized corporations (at that time) in the United States, Bally Total Fitness. My love and passion for the fitness industry led me to become one of the most successful managers in the fitness industry, which is reflected in the multiple awards and honorable recognitions I received.
The success and experience that I found in the corporate fitness world was invaluable.
In 2012, I branched out and began a ground-up operation beginning with boot camps at the park and training PT clients at the small gym at the apartment complex in which I lived. Since then, I have had the fortune to grow the company exponentially, more than 900%, through hard work and determination, and winning one of the highest awards as Personal Trainer of the Year/2018 at Fitness Business Summit in San Diego, CA.
The success has come in part as more and more clients find great results in their health and fitness due to the professionalism, knowledge, experience, and passion for working with individuals and groups of all ages and capabilities. In addition to growing my own business, I have spent several years learning directly from the best fitness business owners in the world through various professional developments and business communities that have inspired me to go even further for our clients, to ensure they receive the world-class experience when at Elite Spartans.
I encourage all individuals who are interested in starting their fitness journey to give us a try and see what we have to offer you! Join us at our FREE Elite 1:1 fitness assessment, or sign up for a FREE trial Spartan Body bootcamp (SBBC) class. I guarantee you will leave feeling fitter, more motivated, and informed. Come and check us out, it's FREE and you have nothing to lose!
I look forward to meeting you!
CERTIFICATIONS
N.A.S.M. – National Academy of Sports Medicine
C.P.T. – Certified Personal Trainer
KFIT – USA Master Trainer
CKT1 – Certified Kettlebell Trainer Level 1
CKT2 – Certified Kettlebell Trainer Level 2
KFIT USA Certified Master Trainer
N.F.P.T. – National Federation of Professional Trainers
C.P.R. – (Cardiopulmonary Resuscitation)
SJCC – A.A. in Communications
SJSU -B.A. International Business